Contents
Exams are stressful enough experiences for everyone at the best of times. However, sometimes life can pile extra pressure on if you have special educational needs (SEND), are experiencing illness or are navigating unpredictable events.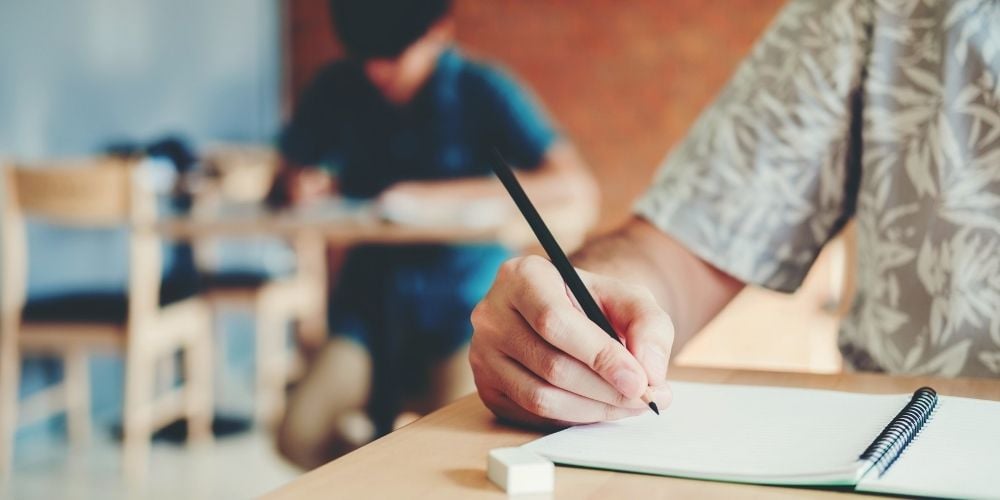 Exam extra time: What help is there if I need extra time in exams?

Thankfully, there are systems put in place by the Joint Council for Qualifications (JCQ) that can help you when you have specific reasons for getting extra time in exams.
These systems have to be provided by exam bodies according to the Equality Act 2010 if a disabled person could experience a 'substantial disadvantage' in an exam.
⏰ Help can vary depending on which exam you are taking, but the most important thing to remember for all of them is to get in touch with your teachers and the school's Special Educational Needs Coordinator (SENCO for short) as soon as you think there is going to be a problem. The sooner you tell the school staff about any situation, the more they can do to help.
In official education speak, teachers and related professionals talk about 'access arrangements' rather than 'getting extra time in exams'. Access arrangements include extra exam time, having someone write for you, allowing breaks, providing laptops and other ways to support any special requirements to sit your SATS, GCSEs, A-Levels or other exams.
The idea behind these access arrangements is to allow schools and exam centres to make 'reasonable adjustments to level the playing field for everyone so that you are not unfairly penalised by the exam situation. On the other hand, educational professionals are careful to make sure that any help given does not make it any easier for a child with access arrangements to pass compared to other students.
Once support is requested, the school must apply for the exam support or let the exam agency know about their plans to help a student in the run-up to the exam.
Exam extra time: What qualifies for extra time in exams?

Anyone who has special educational needs and disabilities which make reading, writing and concentrating difficult or whose first language is not English can apply for exam extra time under access arrangements. Those with hearing or vision impairments can also ask for extra exam time.
👩🏻‍⚕ Students with learning disabilities like dyslexia and dyspraxia can often slip through the cracks and remain undiagnosed for a long time. If you have any reason to be concerned about your own learning abilities, you should consider getting officially assessed. An early diagnosis can help tackle problems with the right tools and you will be able to understand and adapt to your different learning needs more confidently if you have a name for it. Contact your school's SENCO or a local education authority psychologist for more information.
As well as access arrangements, there is also a system called 'special consideration'. This involves awarding a certain percentage of extra marks to students who experience a serious or unpredicted event such as an injury, a bereavement or a temporary illness.
Exam extra time: Can I get extra time in the SATS?

If you are in Key Stage 2 and normally get support in the classroom, you should be able to get extra time for the SATS. Key stage 1 SATS are not officially timed, so it's not necessary to make a formal application for these exams.
Your teacher should already be aware that you have reasons for getting extra time and they should apply in advance for permission to provide it. To get the permission, they will have to supply proof that it is necessary. This proof could be an Education, Health and Care plan (EHC plan) or assessment reports. With this evidence, you can be considered for extra time in the exam.
If you have an EHC plan, the rules allow you to take up to 25 per cent extra time to complete the exam. The rules also allow for some students to open the exam papers early if necessary. Even if you have not yet received the EHC plan, once you have applied for it your teacher can still apply for extra time. If you have a vision impairment and need to use a Modified Large Print or braille version of the exam then they automatically get 100 per cent extra time.
Students who qualify for access arrangements may also be able to use other help such as:
Having breaks to rest between answers (for students with autism or attention deficit disorder for example)

Being allowed to sit the test in a location outside your school

Having an adult read for you (except in the English reading exam, for this the adult can only read the instructions) (for students with dyslexia for example)

Having an adult write for you (for students with dyslexia for example)

Permission to use a laptop to write with (for students with dyslexia for example)

Being given prompts to help with focus (for students with attention deficit disorder for example)

Having transcripts made of your answers

Translations from other languages into English for key stage 2 SATS, if you have an EHC plan or use a modified large print (MLP) or braille versions of the tests you will automatically get extra time to take the tests
🏥 If you get sick on exam day and have to stay off school, you may be able to sit the exam on another day. If you get sick during the exam you can have a break until you feel able to continue, but the exam will be marked as normal.
If you hurt your hand or wrist within a week of the exam you may be allowed an adult to write your answers along with 25 percent extra time if you've never had someone transcribe an exam for you before.
Exam extra time: Can I get extra time in GCSEs, AS and A-Levels?

If you think you are going to need exam extra time for GCSEs, A or AS-Levels, you need to contact your school's SENCO as soon as possible and ask them to apply for exam extra time or support. This is because students sitting exams in the summer need to have applied for extra time much earlier in the year.
The final application date is usually in January or February, but it can change from year to year, so it's important to take care of this as quickly as possible once you know you are going to be sitting exams.
To get permission for extra time in an exam, the SENCo will have to provide proof that it is necessary and that it is the kind of help you usually require in class along with a recent assessment showing slower reading, writing or processing abilities. The proof can include your educational history and what kind of support you have received throughout your education. If the SENCO is successful in getting permission for extra time, this can be valid for up to 26 months.
However, you may still be able to get support even if something happens after the deadline. For example, if you get diagnosed with a learning difficulty or suffer a sudden injury or illness the SENCO can still send in an application and the exam authorities will consider what support can be given.
As with the SATS, the support available does not just include exam extra time. Depending on your needs and circumstances as well as on which subject the exam you are sitting, you may also be able to get some of this help:
Supervised rest breaks (for students with autism or attention deficit disorder for example)

An adult or a computer with voice synthesis to read the questions aloud (for students with dyslexia for example)

An adult or a speech-recognition platform to transcribe your answers

MLP, Braille, or exams printed on coloured paper (for students with dyslexia for example)

Permission to sit the exams in a different location (for students with autism for example)

An electronic device to type your answers (for students with dyslexia for example)

A separate exam location where you are allowed to read aloud to yourself (for students with autism for example)

An exam-reading pen (for students with dyslexia for example)

A sign language interpreter (for hearing-impaired students with autism for example)
Exam extra time: Do you get extra exam time with ADHD?

The JCQ views students with Attention Deficit Disorder (ADD) and Attention Deficit Hyperactivity Disorder (ADHD) as candidates with 'social, mental and emotional needs''. The JCQ's official rules say those students may require extra time and supervised rest breaks among other support. In this category, it is possible to get up to 25 per cent exam extra time.
The JCQ recommends supervised breaks are offered before extra time is considered. The regulations say that students need to have evidence their condition has 'substantial' and 'long term' negative effects on how fast they can work.
Exam extra time: Can you get extra time in exams for anxiety?

The official guidance from the JCQ does not specifically mention anxiety as a reason to give a student extra time in their exams. However, if you have been officially diagnosed with an anxiety disorder and the SENCO has been informed it may be possible to apply for exam extra time under the candidates with 'social, mental and emotional needs' category.
Exam extra time: How can I use extra time in exams?

⌚ If you have been granted extra time in exams it is because you have been found to perform slower than other students in a learning situation. In this case, it is unlikely you will have time to spare. Tips for good time management in exams apply equally well in the case of extra time.
The first thing an exam candidate should do is read the instructions and questions carefully and, if possible, underline key words in the instructions and questions. Once that is done, you should make a brief plan of how you are going to approach the exam, and which questions you are going to tackle if you have a choice.
You could spend 30 seconds writing down on scrap paper the numbers of the questions in the order you want to answer them. It's a good idea to do the question you find easiest first. This leaves more time to concentrate on the difficult parts and provides a boost of confidence that will hopefully carry you through to a successful conclusion!
At GoStudent our well-qualified expert tutors are ready to work with you one to one to prepare for your exams as thoroughly as possible. GoStudent tutors work hard to boost your confidence and make your learning experience effective and enjoyable. Book a free trial class today!