Chapters
At any age, taking an exam can be one of the most stressful things you do. When events or life changes prevent your child from performing at their best, or from sitting the exam altogether, they may be eligible for extenuating circumstances. We'll outline some of these qualifiers, and suggest what you need to do to make sure your child has equity in the exam process.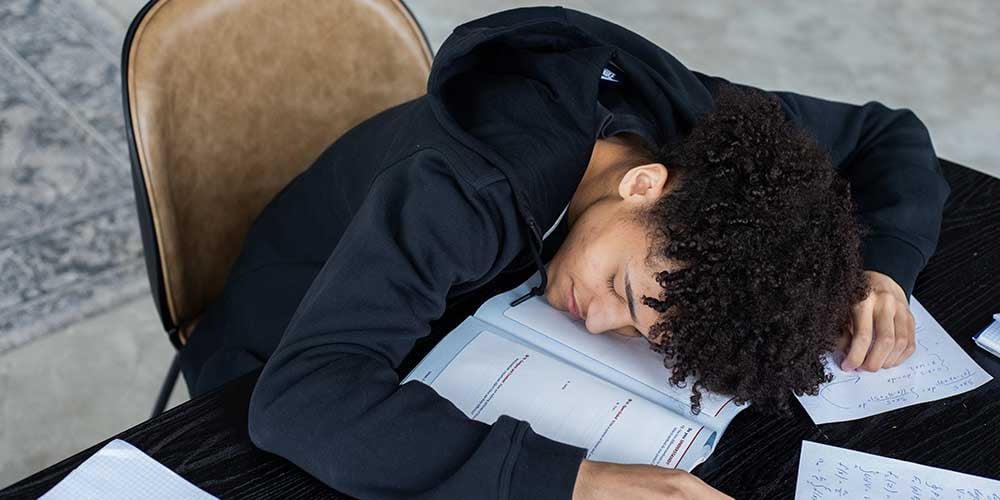 👉🏼 What qualifies as an extenuating circumstance?
Extenuation is a safety-net process which supports students who are struggling in some way with their academic studies. School and university assessment programmes will have a policy in place to support this. The first step is via the school or university support officer who will address each individual student's needs to prevent further snowballing.
It's important to be fair and equitable to all, especially after such a gruelling revision time.
Even after months or years of studying, unexpected life events or difficult situations can arise which may mean your child won't be able to sit their exams.
Typically, extenuating circumstances are those which:
🚩 have a significant impact on a child's ability to attend or complete the exam(s), and
🚩 are exceptional, and
🚩 are outside of their control, and
🚩 occurred during or shortly before the exam in question
The types of support can vary. Say for example the student needs a submission extension. 📆 Depending on the reason, and whether the student is eligible, the school or university will have a system in place to assess how much of an extension is needed. The student support or exams officer will be the right person for the student to turn to 👍🏼
What counts as an extenuating circumstance?
Often, this includes bereavement, domestic dispute, illness or physical injury, accidental events or even where a child has to perform in a major sporting event, and can't complete their assessment.
But remember, they often won't accept where long-term illness has affected revision time, but more so if the illness worsens just before the assessment. Extenuating circumstances almost always apply to just the time of the examination itself, with certain exceptions.
👉🏼 What to write in an extenuating circumstances request?
Importantly, the right protocols must be met for most schools, colleges and universities, no matter the reason that the exam wasn't engaged with. A simple-step process can be followed:
Step 1

- Consider whether your child is eligible to apply via the individual exam board, school or university's policy (these can differ hugely, so you need to meet their standards!).
Step 2

- Find out the name of the support officer, or find the correct form yourself on the school or university's website to complete. Either begin to fill it in electronically or by hand, and make sure you have all the right supporting materials for your child that meet their exemption conditions (for example medical appointment records or prescriptions).
Step 3

- Submit and complete the form by the correct date. For some courses, they require these requests to be before the exam itself, where others may ask for it within 5 days or less of the exam date.
Step 4

- Include all relevant documentary evidence when asked for it. It's a good idea to photocopy at least two copies so that you can keep a record. Remember to screenshot anything submitted online, too!
Step 5

- Wait for approval and prepare to be patient for it to be approved, or submit more evidence or information when requested.


Schools, colleges and universities want to support and help students, and not make things challenging for them. 😀 Parents often need to understand the magnitude of students who sit assessments, making the administration difficult. Filling in the right forms at the right time, and with the right materials, makes this process much quicker and more straightforward 🚀
Remember, they'll often ask for evidence to be 'verifiable', for example signed by a teacher, doctor or solicitor, 👩🏼‍⚕️ so consider getting these signed ahead of submission time.
Extenuating circumstances are then considered by the institutions, often by panels. All of your child's information is kept completely confidential, and often with anonymity as they consider their decision so that the process is kept fair.
Most claims are accepted, but in the cases where they are not, they may ask you for more evidence.
👉🏼 How can you apply for special consideration?
Special consideration is a little different to extenuating circumstances, and applies to students who have already sat exams, and need to be assessed slightly differently. In the UK, Ofqual's guide on regulating GCSEs, AS and A levels highlights the types of post-examination special consideration which include:
✋🏼 Extra marks for a candidate whose exam performance is affected by temporary illness, injury or unforeseen incident
✋🏼 Awarding the qualification even though the student has not completed all the assessments that would normally be required
This includes situations such as students being disadvantaged in some way (at the time the exam was sat), or absent completely (and unable to attend the exam), or even where part of their exam was lost through no fault of their own.
Each exam board has a different system, but there are often extra marks available for these special circumstances! The first step is to call and talk to someone. The school or university exams officer would be the right person to speak to, or directly to the exam board via their website.
Time and time again these institutions and exam boards ask for clear, demonstrable and verifiable evidence, so remember to keep track and copy anything that will help your child's claim to be processed quickly and easily. 📃
Our tutors work especially well with children who may not be in mainstream school, and instead focus much of their learning online, taking each child's individual learning needs into account.