Contents
With your GCSEs looming you're probably looking for anything you can to help you get through the next few months successfully. If you're asking yourself "which app is best for GCSE revision?" or "what are some good revision apps?", you've come to the right place! Check out our list of the best GCSE revision apps for different subjects and purposes below and make the most of your GCSE opportunities!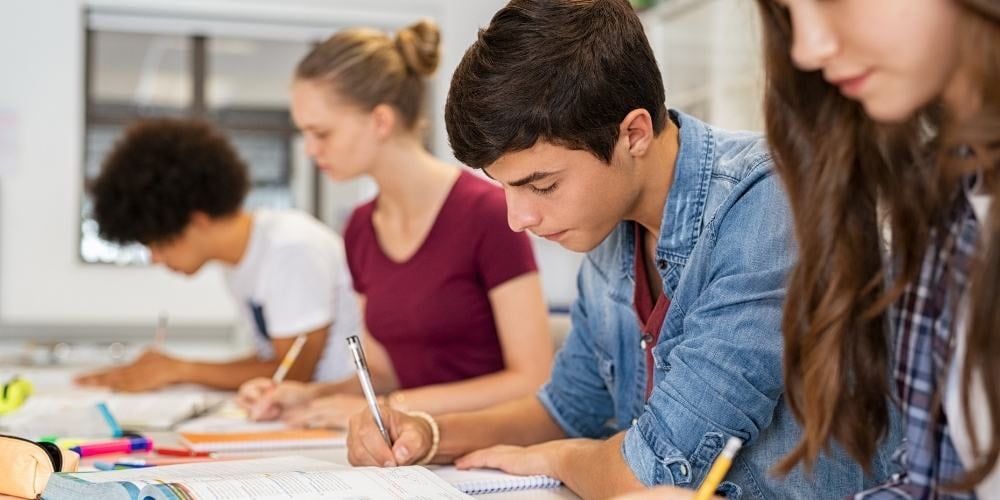 Adapt: The best GCSE revision app for organising your revision
Is 2 hours of revision a day enough for GCSE? That really depends on when you start. If you're doing two extra hours of revision every night on top of your normal homework throughout years 10 and 11, then the answer is yes. Otherwise, starting now, you need to work out how much you have to revise and how much time you have left before each exam. The first step in revising for your GCSEs is to make a realistic battle plan and the sooner you get started, the better! 🕤
Adapt lets you create a revision timetable that you can stick to. Because it helps you stop stressing out about what to revise, as you make progress it makes you feel a sense of achievement because it displays how much you have already done and shows you the topics that you still need to study.
Adapt covers all GCSE exam boards and has over 1,000 subjects divided into topics and modules.
The app tells you what you're supposed to be studying day by day, and if something comes up now and again, it will reschedule anything you don't get finished, so you don't forget about it! What's more, you can tell Adapt how sure you feel about any given topic, and it'll make that a priority for your schedule.
You can also use Adapt to plan your homework, class timetable and put anything else you have on your schedule in one place.
We love the social aspects of this app. As well as chatrooms for specific subjects where you can look for help with difficult questions, you can access study notes and helpful content made by other students.
It also has the unique feature of allowing you to join study sessions with friends or students from around the country, although be careful! This feature should only be used to study with people who are serious about revising!
Arc Maths: the best GCSE revision app for Maths
Who better to design an app for GCSE Maths than a qualified maths teacher? Rachel Dunsmore saw shortcomings in the available apps for Maths students, so she made her own!
Arc Maths lets you revise quickly and effectively with no fuss. It's a good GCSE revision app for Maths because it covers stuff you were taught from Key Stage 3 right up to GCSE level. That means you can brush up on new topics as well as things you learned a long time ago that maybe you're not too sure of now.
The app is designed to be used in sessions of around 10 minutes every day, and it will even send you a notification to remind you to do your daily Maths workout! 💪
Every time you start a session in the app, it gives you 12 questions. The questions can be on any topic you've studied, so you get lots of variety instead of doing the same topic over and over again, which can feel really dull. The app analyses which topics you're not so hot at, and it will make sure to ask you more questions in different sessions until you get them right. Testing yourself is a great way to revise for your Maths GCSE exams.
Arc Maths uses handwriting recognition so you can write out your solutions to exercises as you'd do in the exam. Much better than fiddling with a tiny keyboard trying to find the right mathematical symbol you need! Once you're done, you can see your results and the right answers to any you got wrong. From here, you can also choose to do more questions to practise any topics you're weak on. If you're getting on well, you can increase the difficulty level for next time!
BBC Bitesize: The best GCSE revision app for free!
When it comes to 100% free GCSE revision apps, BBC Bitesize has to be one of the best.
The easy to navigate app offers top-notch content created specifically for GCSE exam boards in England, Wales and Northern Ireland by curriculum specialists and educational consultants. 🎓
It's called BBC Bitesize because these guys really love the chunking style of learning and have broken down all the essential information you need to know for Maths, English, Science and loads of other subjects into "bite-size" chunks. BBC Bitesize contains a massive amount of material in one place and saves you from searching all over the net for what you need.
Just set up an account and sign in to the app, pick your exam board and subjects, and you'll get access to revision guides, daily lessons, videos, flashcards, and tests!
EdPlace: The best GCSE revision app for rewarding yourself!
With quizzes, worksheets, exam questions, and practise papers for tons of curriculums and exam boards, EdPlace is a good GCSE revision app all-around. However, despite the vast amount of resources, the clean interface makes it easy to find any subject or topic.
The EdPlace team have put together some great material to help you get ready for your exams in:
The app learns what is most important for you to know and lets you easily monitor how much you're improving. It'll even tell you where you're doing well and point out the areas where you need to improve. You can set goals for yourself and even pick rewards to get when you reach them! 🍰
GCSEPod: The best GCSE revision app for audio-visual learners
If you're asking yourself, "how many hours a day should I revise for GCSEs?", the answer is that you can spend hundreds of hours on revision, but you could be wasting valuable time if you're not doing it the right way!
The creators of GCSEPod want you to study "smarter, not harder". So before you start using it to revise, you should check out GCSEPod's Study Smart Pods to find out about the best revision methods. ✅
The app gives you access to 6,000 "pods", audio-visual tutorials in 27 subjects. The pods are detailed but clear and use cognitive learning tricks to provide you with all the essentials that you need to know in 3 to 5 minutes. In addition, you can make custom playlists of any pods you want to hear again and build your own revision sessions.
As if that's not enough, GCSEPod lets you create your own flashcards and mind maps to consolidate your revision.
Quizlet: The best GCSE revision app for memorisation
Quizlet is a really good GCSE revision app for subjects that require a lot of memorisation of things. That means it's very effective for learning vocab for languages like Spanish or French, dates and events for History and also for definitions and formulae for Maths and Science.
Quizlet is built around flashcards, a tried and proven revision method used by students for decades. But Quizlet supercharges the flashcard experience with an AI learning assistant, games, social learning features, seven study modes, and step-by-step explanations of complex topics from experts. The app gives you access to millions of flashcards already made by students and teachers, but you can easily create your own too! ✂
GCSE Computing Revision Computer Science: The best GCSE revision app for Computer Science
This app doesn't have a catchy name, but GCSE Computing Revision Computer Science is a very good GCSE revision app for all you budding tech giants out there! It's a quick and straightforward app for anyone who wants to get a handle on Computer Science terminology.
While it's primarily aimed at the WJEC/EDQUAS exams, it's also beneficial for OCR and AQA Computer Science exams. 💻
Focused on explaining crucial elements of GCSE Computer Science Theory, the app lets you create your own custom list of topics for revision and covers:
GCSE/IGCSE History: The best GCSE revision app for History
GCSE/IGCSE History is another app that needs a better name, but it's a good GCSE revision app if you're tired of reading pages and pages of History theory. 🏯
The app is an AI digital assistant that specialises in telling you the vital bits you need to know about the GCSE History curriculum. Simply ask it about a topic like the French Wars of Religion or the Weimar Republic, and the AI will tell you the critical info via voice and text. You can tap on a suggestion or ask for more details.
It's a fresh and interactive way to absorb essential facts. GCSE/IGCSE History is focused on Edexcel, but it's definitely handy for other History exams too.
GoStudent: The best GCSE revision app for the human touch
Other revision apps rely on algorithms and AIs to help you with your revision. But what better way to help you prepare for your GCSEs than your own personal human tutor? The GoStudent app gives you a teacher in your pocket and is one of the most efficient revision aids available! 🙎
GoStudent offers personalised study plans and individual, one-on-one instruction. Expert tutors for practically any GCSE subject are available for classes that you can schedule for a convenient time. GoStudent's tutors provide engaging lessons that focus on whatever you need to revise.
You'll love the experience of having a private tutor who is there to answer any questions you may have about your topics and carefully explain complicated material in a way that ensures you'll understand it 100%.
Communicate with your tutor through the app, website or Whatsapp. Your class content will be available via the app 24/7, and you can even record your lessons to rewatch whenever you need a refresher. What better way to prepare for your GCSEs? You can even take a free class to check it out!
Memrise: The best GCSE revision app for languages
Learning a language at school can often be an embarrassing and stressful experience. So a gang of language specialists, native speakers and engineers got together to make Memrise a fun and effective language learning app. Memrise has all these languages available right now:
Memrise gives you tens of thousands of videos of native speakers showing you how people really speak the language in their daily lives.
Videos help you learn a language much faster than textbooks or audio clips because you get to use body language, facial expressions and gestures, tone and stress to work out how people communicate in so many different ways. 💬
It's an enjoyable way to upgrade your vocabulary, but it's also a terrific way to practice your listening or speaking for exams. A bunch of games and exercises back up the videos to help you revise and consolidate your skills.
Seneca: The best GCSE revision app for teaching and testing yourself:
Is Seneca a good GCSE revision app? With its exclusive content written by examiners and educational consultants to meet AQA, Edexcel, Eduqas, OCR, and WJEC examination boards' requirements, and its fluid, easy-to-use animated interface, Seneca is one of the best GCSE revision apps out there!
Seneca's micro-lessons help you revise essential facts, and then its built-in artificial intelligence checks your comprehension with a quick quiz. If you get a wrong answer, the AI will remember and test you on that information in future sessions until you get it right.
Seneca offers lots of free resources to help you, but if you get through it all, you can upgrade to the premium version for more demanding questions, extra content, on-demand tutoring, and more! If only GCSE textbooks worked like Seneca! 👍
XMind: The best GCSE revision app for summarising
Mind maps are an awesome way to revise for your GCSEs. You can use them to condense pages and pages of notes into one attractive image that uses association and links to help you remember your information. 💭
XMind is a simple but versatile mind mapping program that's perfect for your GCSE needs, but it's so good that it's used by university students and CEOs as well!
It lets you create 16 different types of detailed mind maps right from your mobile or tablet.
Believe it or not, mind maps are even more effective when they look nice, so XMind includes a bunch of themes to enhance the learning experience. Your mind maps can be exported for printing or used in PowerPoint or Google Slide presentations, which means you can also use them for coursework. The mind maps you create can be stored in the cloud and you can access them from wherever you are, whenever you want.