Contents
There are so many great apps for dyslexia on the market today. You'll find apps that teach spelling, how to master tricky words, provide a colour overlay, and more. Since most apps for dyslexia are multi-sensory they are perfect for keeping children engaged while learning. In this article, we'll look at what dyslexia is and what the best apps are for your child.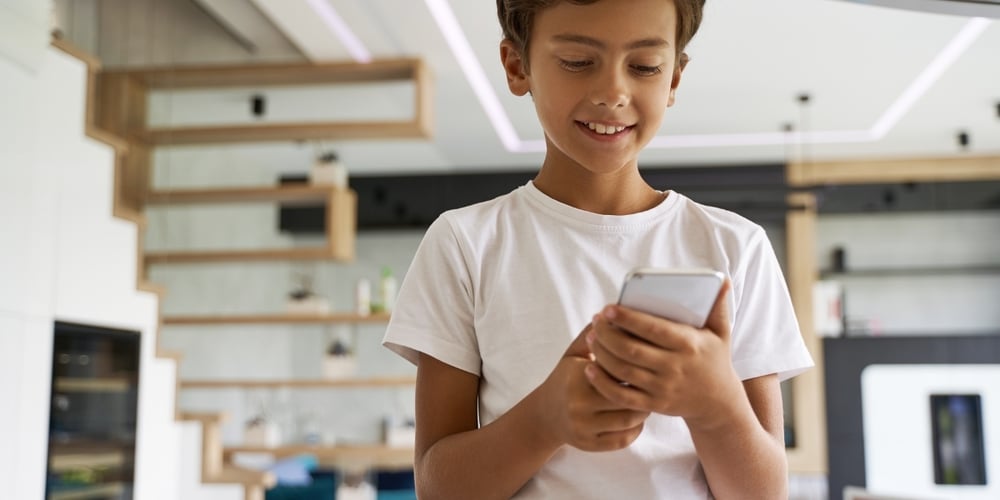 What is dyslexia?
Dyslexia is a common learning difficulty that affects 10 percent of people in the UK, to varying degrees. Dyslexia can impact a person's ability to read, write, and spell. If your child has been diagnosed with dyslexia you can jump to the next section. If you think your child may have dyslexia but aren't sure, we'll share some of the symptoms.
What are common symptoms of dyslexia?
Symptoms of dyslexia usually become apparent when a child is beginning to learn to read and write. That's because people with dyslexia may:
Mix up the order of letters in words (a common reading with dyslexia example is swapping a "b" for a "d" and vice versa)

Read or write slowly

Be poor at spelling and/or inconsistent

Understand verbal instructions but struggle when reading the same information

Have difficulty with planning and organisation
While children and people with dyslexia may have difficulties with some of these areas they often display strong skills in areas such as problem-solving and creative thinking. Dyslexia isn't related to a person's intelligence in any way.
If you think your child may have dyslexia, you should speak to your child's teacher or the special educational needs coordinator (SENCO) in the first instance to relay your concerns. They will be able to guide you on the next steps to take and offer additional learning support if needed. Fortunately, there is a lot of research on dyslexia and how to enhance learning.
What is the best way to learn for dyslexia?
Once a child is diagnosed with dyslexia, there are a number of learning methods that can support them:
Occasional one-on-one teaching with a specialist teacher or tutor or small group lessons
Focusing on phonics

Using special technology

Reading programs for children with dyslexia

Educational apps for dyslexia
Let's look at each of these points in more detail.
Finding a good teacher or tutor to help
There is nothing as supportive to your child's learning and development as you. Spending time reading to them is important for them to improve their vocabulary as well as special bonding time between the two of you.
If your child has dyslexia, one-on-one teaching is also going to be crucial. Your child's school probably has a specialist who can help. If not, or you want to give your child additional support to boost their reading skills you can always enlist the help of a professional tutor. 👩‍🏫
At GoStudent, we have expert tutors who will give your child tactics for improving their reading ability and focus on methods better suited for kids with dyslexia. If you ever want to give one of our online tutors a try, we offer a free trial class which you can book whenever you like and for a time that suits you and your kid.
Dyslexia and phonics
Dyslexia and phonics go hand in hand but it needs to be structured. Apps for dyslexia are one of the best ways for your little learner to develop their vocabulary and understanding and use of phonics.
Make use of technology
Once your kid is a tad older, technology can also support speech recognition and writing by using automatic spelling checkers and other widgets or extensions online. There is also assistive technology to bring into the fold too:
E-readers - allow you to adjust the font type, size, spacing, and brightness of the screen
Reading pens - these are useful since you can carry them around easily
Audiobooks - these can improve your child's concentration and introduce new words. These are also great to use in conjunction with the same book so your kid can read along and listen at the same time
Popular dyslexia reading programs
Orton-Gillingham is the most famous technique used for helping people with dyslexia read. It was created by Samuel Orton, a neuropsychiatrist and pathologist and psychologist Anna Gillingham.
The Orton-Gillingham method is based on the use of multisensory phonics. You'll find dozens of dedicated dyslexia reading programs based on this approach and they vary in cost and style so some work better with different people than others.
Apps for dyslexia
Apps for dyslexia are usually designed using multi-sensory learning (sound, sight, and touch) helping to move information to users' long-term memory faster. This is a stimulating way for kids with dyslexia to learn and often a better approach for their way of learning than traditional reading training.
Spelling apps for dyslexics
There are many great spelling apps for dyslexics. Below are some of our favourites. These also pave the way towards reading too and have more than spelling to offer. 📚
This is a simple but effective app for practising phonetics, writing and learning new words. Your child will trace over letters in words on the screen and then each letter is sounded out phonetically. There are arrows to guide your kid's finger and if they stray too far the word will be reset so they can try again. This makes it a great app for dyslexia spelling and writing improvement.
You'll find 100 of the most frequent sight words and you can also add your own. While writing can be tedious, this app brings a touch of fun and lightness by allowing users to trace the letters and words on various colourful backgrounds.
Percival's Help For Dyslexia
As the name suggests, Percival's Help For Dyslexia has been designed specifically for children with dyslexia. It focuses on 107 common words that can't be made with letter sounds e.g. night, seven. This is a fantastic app for dyslexia spelling, and in particular, for learning the words they usually find more challenging.
This app largely relies on mnemonics (e.g. night = night is good howling time). It uses fun animations and cartoons to keep your child entertained while working through the activities. You can change the colour of the screen and words to tailor them to your child's preferred settings.
The app was developed by an English primary school teacher and special needs assistant. It's a good alternative for learning these difficult words if rote learning a list isn't your child's thing.
This is one of the apps for dyslexia that helps to improve speech and communication, as well as vocabulary and literacy skills at the same time. The app contains the following:
15 downloadable word lists

The ability to create your own wordlists

96 pictures and their matching written and spoken words
The Easy Dyslexia Aid is really an app for dyslexia spelling. It can make kids feel more confident they have the right spelling by saying a phrase to the app and having the app dictate this into text. Your child can choose from different colours and fonts which are typically easier for people with dyslexia to read.
The app can also read back the words or phrases your kid has inputted as they read along or just look at the word on the screen while listening. Then your kid can copy the word or phrase and rewrite it where they need. Since many kids with dyslexia struggle with hearing all the syllables or sounds in a word, this is much easier for them to use than a dictionary and much faster. 💫
Montessori Words & Phonics
The Montessori learning method is useful for all kids but this app is particularly handy for children with dyslexia. It's best suited for kids aged 3-8 and it will help with reading, writing and spelling.
It uses the Montessori method of phonemic awareness and phonics. It combines sounds, visual effects, and animations to make it an exciting and fun experience for kids. You can choose different levels of word difficulty or sound categories. The app also allows you to change between lower-case, capital or cursive style.
There are three apps in the Simplex Spelling Phonics series:
Phonics 1 - contains 450 words that are divided into 42 lists. Each list builds upon the previous one as your child progresses
Phonics 2 - this app follows on from the Phonics 1 level and has 650 additional words spread across 54 lists. The focus is on syllables and more challenging words
Advanced Phonograms - this includes 750 high-frequency words split into 52 lists. It will take your kid to more advanced phonograms and look at spelling rules
These three apps as part of the Simplex Spelling Phonics series will keep your kid busy for years, although it should be noted they are not as entertaining as some of the others on this list. They are highly educational though and have won awards because of this. If your kid is studious and likes to learn they will find it rewarding and see improvements in their spelling.
Reading apps for dyslexia
From your child learning their first words to putting sentences together, reading apps for dyslexia will help them develop these skills while having fun. The two listed below are excellent apps for learning to read and the second (Dyslexia Gold) is also full of other screening and learning tools as part of the app.
This app was a finalist for the BestAppEver Award: Toddler Apps and is a best-selling reading game for kids. It teaches letters and words in an interactive way using brilliant illustrations and colours. The game has 150 words to learn divided into the following categories:
Animals

Colours

Vehicles

Shapes

Words from around the house
It's one of the best iPad apps for dyslexia and it's also available to download on iPhones.
Dyslexia Gold is one of the best apps for dyslexia because it has six different programs and the first is to help identify what your child is struggling with specifically. ✔️
Dyslexia Screening Test - find out why your child finds spelling or reading difficult and if they have problems with thinking quickly, remembering instructions, hearing individual sounds and words, or focusing both eyes on the same letter
Engaging Eyes - if your kid struggles to focus both eyes on the same spot on a page this part of the program has eight fun games to help overcome this challenge
Fluency Builder - this contains 50 lessons to help your child read. Each lesson focuses on a different sound plus a reading passage to teach new vocab
Spelling Tutor - this teaches how to spell the top 1,000 most common words. It remembers which words your child makes a mistake in and retests these over and over until they are stored in their long-term memory
Times Table Tutor - this uses a multi-sensory approach and provides a relaxed way to learn times tables up to 12 x 12. There are no league tables or timed exercises and it moves at the same pace as your child
Reading Unlocked - this is a phonics programme teaching kids to read and spell phonetically. Every lesson has a poem to read at the end, giving your child experience reading with real texts too
What are the best free apps for dyslexia?
You won't find many free apps for dyslexia and those that do start out free soon get a price tag attached. However, most only cost a few pounds and once you have the app your kid can use it over and over again so they are a very worthwhile investment. Here are some great free apps for dyslexia.
Blending Board is an excellent app for learning the foundations of blending sounds and multisyllabic English rules. The systematic teaching approach to reading and phonics is a hit with parents. It's very straightforward to use and allows you to create decks for your child to run through and learn.
TintVision was created with dyslexic users in mind as part of a final year university project. It provides a colour overlay and has a draggable underliner tool. Your kid will be able to choose the colour and the transparency of the colour on the screen. It will help your kid when they're reading on a web browser and in other apps.
General programs for dyslexia
The two programs for dyslexia that we are going to mention in this section have completely different purposes:
Omoguru - providing more comfortable on-screen reading
Dyslexia Quest - to assess your child's listening and memory skills so you can identify which areas need improvement
Omoguru is slightly different to many other apps for dyslexia because it revolves around technological solutions to make reading text easier (similar to TintVision above but with more features). It doesn't teach phonics so these tools are for when your kid is already reading and to make the process smoother for them.
The team at Omoguru is made up of speech therapists, dreamers, designers, typographers, and innovators who offer new ways to make reading a comfortable experience for people with dyslexia and other reading difficulties.
There are three different solutions that the team at Omoguru has built:
Dyslexia Friendly Reader - an app for phones and smartphones that makes the text more readable. It also comes with books and stories preloaded
Font System - readers can adjust font and text to their liking and it has been proven to reduce reading time, the number of mistakes, and make reading easier
Comfortable Reading - a browser extension to make the text clear on any web page. It comes with a special reading mode to remove distractions too
The purpose of the Dyslexia Quest app is to assess your child's listening and memory skills. The activities are divided into the following age groups:
Your child will work through a number of adventures and then you will see the results highlighting stronger and weaker areas. Your kid can then use the app to improve their weaker areas. It's one of the best iPad apps for dyslexia and it's also available to download on iPhones too.
We bet you can't wait to try some of these apps for dyslexia out with your child. If you would like to complement learning at home with professional support from a tutor, get in touch with us whenever you're ready. We'll match the perfect tutor to your child depending on their needs and interests.
All of our lessons are online so that kids can have their lessons from the comfort of their room or kitchen table (wherever they feel like!). Your tutor will make the class fun and interactive so your little one is motivated to keep learning. We'll provide you with regular updates too so you can see just how far your child is progressing.