Contents
The time between sitting your A-Level exams and getting your results can be nerve-wracking. If you've applied to university, it can feel like everything hangs on the outcome. Those last few days can feel like an eternity, but remember that you're not alone. To help pass the time, we've put together the most useful and practical information about A-Level results day 2023.📜
Exam season can be an overwhelming time for all concerned. It's important to look after your mental health and speak to your parents or your GP if you find yourself struggling to cope. At times when stress and anxiety levels are rising, it's ever-important to practise good self-care. Making sure that you're eating well, getting enough sleep and spending time getting active outdoors (without a device). Get stuck into doing things that you enjoy and take advantage of the fact that you're on holiday – after all that study, you've earned a break!🌴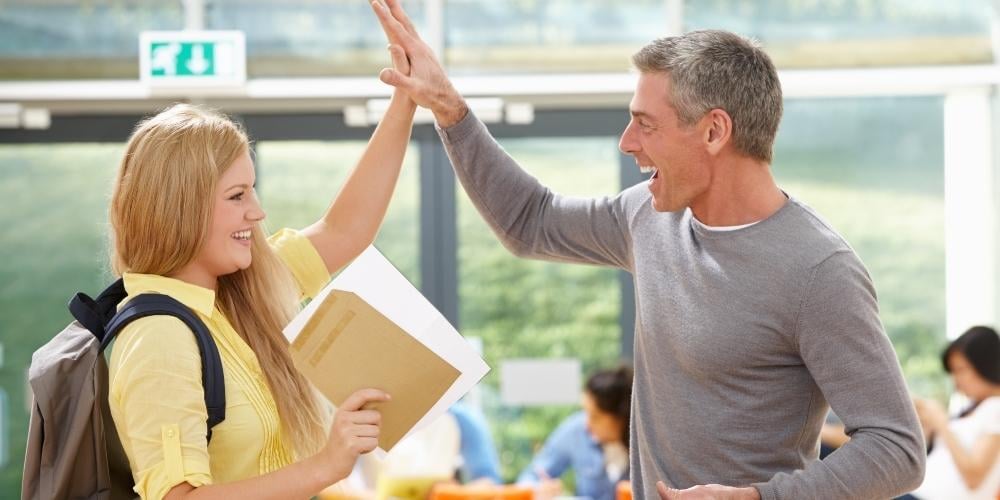 When is A-Level results day 2022?
This year, A-Level results day in the UK is on Thursday 17 August 2023.
For students in Scotland, the Scottish Qualifications Authority (SQA) will publish exam results on Tuesday 8 August 2023.
It can be stressful waiting for your A-Level results, but try to remember that you're not alone. Students up and down the country will be counting the days until the results come out.
It's important to remember that, even if you don't get the results you were hoping for, you still have plenty of options.
What time do A-Level students get their results?
Students can collect their A-Level results from their school or college after 8am on Thursday 17 August 2023. It's a good idea to check with your school or college to find out exactly what time you'll be able to collect your A-Level results, as opening and closing times may vary. If you can't collect your results in person, you can nominate someone else to pick them up on your behalf – but this should be organised in advance.🏫
For students in Scotland, you can get your results via email or text if you've registered for MySQA. You'll still get your certificates by post.
When does UCAS Track update on A-Level result day?
If you've applied to university, you'll want to know whether you've been accepted by your chosen university.
UCAS Track updates at 8am on A-Level results day. It may be tempting to check at midnight the night before, or at the crack of dawn when you wake up – but you won't see any information about whether you got into the university of your choice before 8am on Thursday 17 August 2023.
You won't see your A-Level result on track, but you may see whether or not the status of your university offers have changed. Keep in mind that it's impossible for all universities to change applicants' offers to the correct status in a single moment – so if you've got the grades you need and your offer status hasn't changed – don't panic. It will probably update at some point during the day.⏳
What if UCAS Track doesn't update?
If you find that your UCAS Hub has not updated by mid-morning on results day, it's a good idea to call the university. Bear in mind that, if you didn't get the results they asked for, they may still be making a final decision on your application. When you call the university admissions department, make it clear that you're an existing offer holder rather than a Clearing applicant to help you get through the right person.
What happens if I don't get the Level results I need?
The biggest fear for all students awaiting their results is that they won't have got the grades they were hoping for. If this is the situation you find yourself in on A-Level results day, then try not to panic. There are still plenty of options available to you and getting lower grades than you wanted doesn't necessarily mean that you won't get to where you want to be.
If you've missed out on your top choice of university, you can still go through the university Clearing process and you may find that there are other courses that catch your eye!👁️‍🗨️
You've just missed your predicted grades
Don't presume that you'll be rejected by your chosen university just because you've missed your predicted grades. Universities often amend offers after receiving your results so check your application status first to see what the situation is. They may offer you a place on a different course, which you can choose to accept or decline.
If you are a few marks under a grade threshold or intend to appeal any of your grades, make sure you contact your chosen university so they can let you know whether that changes things from their perspective.👓
If you've missed out on your firm choice place
First, take a breath. All is not lost. Whether you've slipped a grade or two or failed a particular exam, you have plenty of options. Your school or college should be able to support you and talk you through all of the following possibilities:
You can accept your insurance place

You can apply to other universities through clearing

You can retake your A-Levels and re-apply again next year


If your grades are much lower than predicted Firstly, check your UCAS Hub as you may still have an offer from either your firm or insurance offer. If your status is unclear and it looks like the university is still making their decision, give them a call to discuss your options.
You're not the first student to get lower than predicted A-Level results, and you won't be the last. Your school and college will be able to offer you support and guidance regarding what happens next.
Remember, there are still lots of pathways to higher education available to you if both your firm and insurance choices are no longer an option.🦪
1.
UCAS Clearing
Go through UCAS Clearing and apply for a new course. You may find something in your field at another great university, or you may discover a completely different course that you love the sound of.
2. Retake your A-Levels If you think you could have done better and are dead-set on a specific course or university, then taking the time to retake your A-levels is a good option. It shows strength and commitment and will give you time to really consolidate your learning.
3.
Take a break from studying
If you're not sure whether university is really for you, then take some time to consider your options. Perhaps you want to investigate different university courses before reapplying next year, or perhaps you'd like to take a gap year and get some valuable work or life experience. Some people find that, after the intensity of A-Levels, slowing down and taking a break from studying helps them find where they want to go next.
After working your way through the UK school system, it's easy to think that everything hangs in the balance as you await your A-Level results. Remember that A-Levels are not the only route to university and many people find their way to higher education or their dream career through different channels.🛣️
If you are thinking of re-sitting some of your A-Levels to get a better grade, GoStudent has a range of expert A-Level tutors who can help you succeed!