Contents
Waiting for A-Level results is a stressful period for most students in the UK. For pupils who have applied to university, your results may determine whether you've made it into your first-choice university – so it's no secret that awaiting A-Level results day can be nerve-wracking. The good news is that you're not alone, and there's plenty you can do to make the waiting period manageable. In this article, we'll tell you everything you need to know about A-Level results day 2022.
It's no secret that exam season can be a stressful time for students. Looking after your mental health is key during this period, and it's important that you speak to your parents or reach out to your GP if you find yourself getting stressed and overwhelmed. Make sure you're taking good care of yourself by eating healthy foods, getting enough sleep and exercising – just sitting around anxiously awaiting the results won't be good for you, so be sure to keep busy.
Try not to worry too much about your results, and keep in mind that there are always other options if you don't get the results you were hoping for! 🙂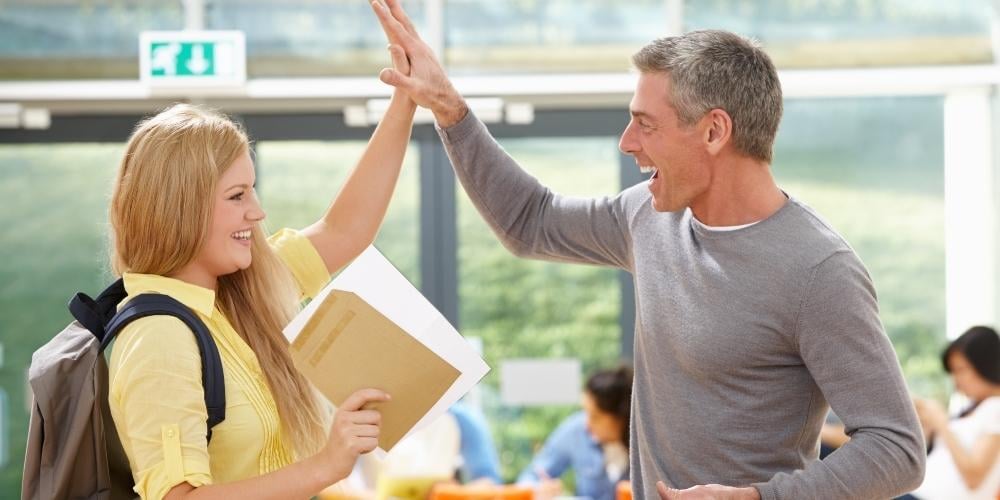 When is A-Level results day 2022?
This year, A-Level results day in the UK is Thursday 18 August 2022.
For students in Scotland, the Scottish Qualifications Authority (SQA) will publish exam results on Tuesday 9 August 2022.
Waiting for your A-Level results can be a stressful time, but try to stay calm. As you wait for results day to come around, keep in mind that you're not alone – students across the UK will all be in the same boat, anxiously awaiting news about their A-Level results in 2022. 😱
What time do A-Level students get their results?
Students can collect their A-Level results from their school or college any time after 8 am on results day, which will be the 18th of August in 2022.
However, you should check with your school or college when they will be opening for students to collect their results, as opening and closing times may vary between different schools. If you're unable to travel to your school in person to pick up your results envelope, they can be sent to you in the post, or you can arrange for a nominated person to pick them up on your behalf.
When does UCAS Track update on A-Level result day?
If you've applied to university, you're likely anxious to find out whether you got the results you need to be accepted to the university of your choice.
UCAS will receive your A-Level results directly, and Track will be updated accordingly. You won't see your A-Level results on Track, but you may see that the status of your university offers has changed. This usually happens around 8 am, but with many students keen to check whether they've received offers, you may need to be patient. 💻
Keep in mind that UCAS Track can sometimes take a little while to update – so there's no need to panic if nothing has changed when you first check it in the morning!
What if UCAS Track doesn't update?
If your Hub hasn't updated by mid-morning on results day, you'll need to phone the university because it suggests they haven't made a final decision on your application. If you haven't already got a specific number to call then you can contact the universities normal number and make it clear you are an existing offer holder, not a Clearing applicant.
What happens if I don't get the Level results I need?
For students sitting their GCSEs and A-Levels in 2022, a big fear may be that you don't get the results you were hoping for. If the grades you receive on A-Level results day 2022 aren't what you had hoped, stay calm and keep in mind that there are many options available to you.
Students who didn't achieve the grades needed to receive an offer from their top-choice university can go through the university Clearing process to find out whether there are other courses or universities they may be interested in.
You've just missed your predicted grades

There is also still the chance that the university might accept you. If you intend to appeal any of your grades or were only a few marks short then you should immediately contact your firm choice university so they can inform you of the next steps.
Check your UCAS hub as the university may still offer you a place but on a different course. This is known as a 'changed course offer', and of course, you have the choice to accept or decline.
If you don't have sufficient grades for your firm offer, and the university will not accept you
You have several options, which your school should be able to talk you through so you know which option is best for you. These include:
You can accept your insurance place
Change your plan and apply to other universities through clearing
Retake your A-Levels and try to apply again next year
Your grades are much lower than predicted
Before you panic, check Hub

–

you may still have an offer. If the university hasn't made a decision yet, phone them to discuss your situation.

Your school will be there to support you. Your teachers have seen students in exactly this position before and can help - there are still options available to you.
1. Go through clearing
If neither your firm nor insurance choice has offered you a place, you could decide to apply for a new course through Ucas Clearing.
2. Take a break from studying and gain some life experience
If you're unsure of whether you'd like to go to university at all, there are plenty of other options available to you. In fact, university isn't the right path for everyone, and each individual should follow their own timing – there's nothing wrong with focusing on something else for a couple of years before heading to university! 🎓
If you decide that you'd like to take a break from studying before applying for university again the following year, why not take a gap year or even consider working abroad for a while? This may even lead you to studying abroad in the future.
3. Resitting your A-levels
If you feel you could have achieved better grades and had a specific university or course in mind, sitting A-Level retakes may be a good option for you. This can be a great investment for students with a particular goal in mind, as you could simply delay your university entry until you've received your improved A-Level results.
If you're thinking of re-doing some of your A-Levels to achieve a better grade, GoStudent offers A-Level tutoring designed to help you succeed! ✅