Contents
The world was flipped on its head due to the Covid-19 pandemic, and we've all had to adjust to a new way of doing things. Did you attend a virtual birthday party? Join a virtual quiz night? Take part in a virtual workshop? Break a sweat during a virtual gym class?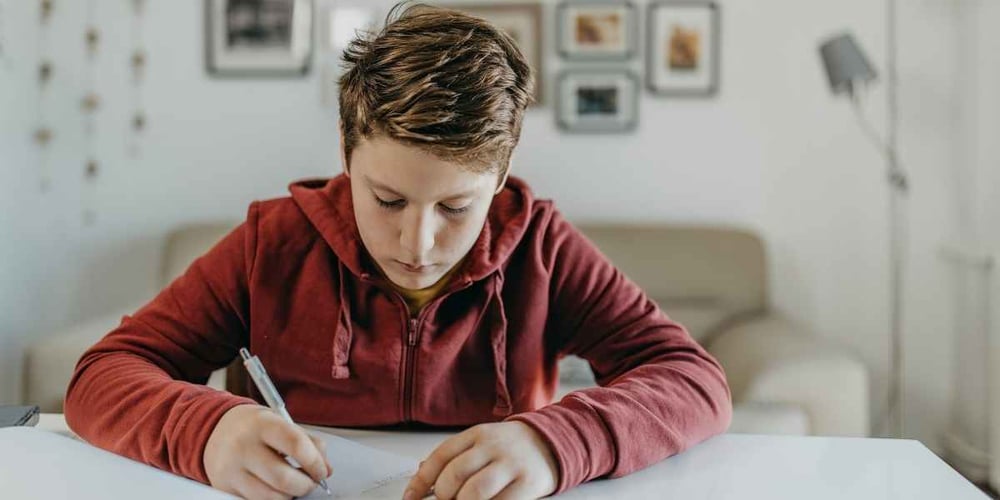 Even though many things were paused, a lot of the things we were able to continue virtually. Thanks to the best technology, virtual learning has quickly become the new norm and teachers have adapted to new technology and screensharing options.
And most importantly, virtual learning means our children continue to learn throughout the pandemic. A personalised learning experience, the flexibility of long-distance learning and new options for collaboration are just a few benefits to improve the whole learning experience in a new setting.
Virtual classrooms help our children to learn, grow, and have fun from the safety of home. Plus, they gain important life skills, while parents save time and gain more flexibility over the learning process. Digital learning makes the learning process affordable, timely and significantly improves visualisation with students.
So let's take a look at the main 7 benefits the virtual classroom can offer you and your child...
#1

Safety comes first

👩‍🏫
In the current situation we encounter large difficulties. Parents try to protect their kids even more in times of the pandemic and the best way to put safety first is to stay home. This difficult time does not mean our children should face barriers while learning!
A virtual classroom lets your children interact with our highly qualified tutors in the safest way possible. Tutoring lessons can be taken from anywhere and are affordable for everyone. Our highly qualified tutors make the learning experience fun and dynamic.
Through a personalised interaction with the student, our lessons are completely different from the frontal teaching method used in schools. Our individual, transparent rating system will help you pick the right tutor for your child, to give you that extra peace of mind, when finding the right learning partner.
👉 Let us show you how effective virtual learning can be when done right! Book your first free trial lesson here.
#2 Tutoring anytime, anywhere
🏡
Through digital learning, you can experience the right learning experience right at your doorstep! Our 100% flexible platform means you can schedule a session at any time that suits your family. If your child is an early bird, kick the day off with a lively morning session, then you've got the rest of the day free. Prefer to have your weekends free for quality family time? Then line up a tutoring session during the week.
It's totally up to you, and our flexible booking system means if something comes up, you can easily reschedule at the click of a button. We want to make it as easy and stress-free as possible for you and your child.
For your convenience, we also have the option for students to record all their sessions. Simply hit record, and we'll automatically create a file. It's a fast, simple and convenient way to build up a library of personal study resources. In this way, your child can refresh their learning at any time and won't forget what they were taught in the individual sessions!

#3 Boost your child's confidence

💪
Just as a physical classroom teaches children important social skills like patience, sharing, respect and kindness, a virtual classroom has many hidden benefits. Your children will gain vital skills using technology as part of their everyday life, and get more confident interacting online.
Learning online also helps them prepare for a career in a digital environment, which offers tons of opportunties! Our high-powered technology like the interactive online whiteboard supercharges the learning environment, and your children will get to experience it all!
These skills are vital for future workplaces. Arming your children now will help them get ahead later in life! At GoStudent, we see it as our mission to help to create a generation of confident, tech-savvy children who are fully prepared for their future career. Independent learning in a virtual setting, makes them become self-starters and prepares them for a digital workplace.
#4

Digital learning for everyone
👐
Not only are virtual classrooms significantly cheaper than traditional established schools, but you can also save when it comes to travel expenses and lock-in contracts. Think of all the time, money and hassle you can save by bringing the learning experience to your living room. Once you try it, you'll never want to go back to the standard tutoring setting!
We have a variety of packages starting from just €19.20 per session to suit every budget. Plus, our guaranteed replacement tutor means you'll never be out-of-pocket. Our packages are the most competitive on the market, as we are trying to suit everyone's needs. Depending on your learning requirements, you can speak to our team and they can find you the right tutor, so your student makes the jump to a better grade!
#5

Giving you a break ☕
Parents, you deserve a break. Even if you enjoy helping your kid with your homework at home, there are always going to be some subjects where you feel slightly out of your depth and outside of your comfort zone. So let a tutor who specialises in that field help take away some stress and lighten your load.
We handpick the best qualified tutors, for you to face the next exam of your kid with a relaxed mind. Our tutors will work individually with you to discuss specific learning goals and then focus on reaching and celebrating big learning milestones along the way.
GoStudent offers over 11,000 verified tutors. They have been independently evaluated for their friendliness, expertise, reliability and teaching skills across 16 subjects. They make sure to be available 7 days a week, to make tutoring fit into your schedule. Plus, we make it easy for you to stay updated through a private WhatsApp group to ensure you receive constant communication, progress, updates and advice first-hand.
#6

We make learning fun 🚀
Is your child feeling frustrated or losing motivation? A change of environment might just be the trick!
Let our tech-savvy tutors instantly grab your child's attention with their toolbox of tricks such as YouTube videos, virtual quizzes, music, games and competitive challenges. Virtual classrooms have access to a world of resources at their fingertips, so lessons will never be boring. We love to bring in playful learning through games such as Kahoot! for students.
Students can face their competitive spirit, whilst playing classic warm-up activities like Charades, Simon Says and Pictionary. These games make online learning fun! In fact, one of our students Max loved his tutor sessions with Alex so much, he told his Mum he wants to be a tutor when he grows up. These achievements really bring a smile on our face and make us really enjoy our mission to build the #1 global school worldwide!
#7

Work smarter, not harder
✔️
We speak with many parents daily, who tell us they would like to see results immediately! That's why we have built the most technologically advanced tutoring platform available. Tutors can send students a link to a resource, or screen share so both student and tutor are on the same page, without any distractions.
Your child will receive instant feedback on spelling tests, tricky maths equations or quiz results. Plus with 24/7 communication, tutors can give students instant help on the problems and challenges they are facing. The future of learning is here!
The accessibility, flexibility and individual focus that students get from a virtual classroom can help them reach their full potential, in a way that suits them. Virtual classrooms provide an effective, affordable and safe experience for children to learn from home, relieving some of the stress busy parents can feel.
By individually analysing your child's needs, we'll find the best match and create a learning plan that is perfectly suited to each student. Our mission is to want to get more kids as excited about achieving their learning goals!
It's the best time to book a trial lesson with one of our tutors to see first-hand how fun GoStudent's virtual classroom can be.