Contents
As you would expect, the 11+ English exam is going to be a challenge. After all, it's the gateway to the grammar school of your choice. Your kid will need to do some prep work for it because some of the questions will go beyond what they've learnt in class.
We'll explain what types of topics are covered in the 11+ English exam and recommend how your kid should revise.
What is in an 11+ English exam?
The 11+ English exam is optional to sit, just like the 11+ in general. The 11+ English exam is taken by kids when they are around 10 years old in their last year of primary school. Your kid will need to take the 11+ English exam if you want them to attend a selective or grammar school with these entry requirements.
The reason it is called the 11+ English exam is that kids typically enter secondary school when they are 11 or 12 years old. There are different 11+ English exams that kids are required to take depending on which school they're applying for and which exam board the school follows. When it comes to revision time it's important you know how best to help your child prepare.
If you need help with this, we have tutors that specialise in 11+ English and they will be able to guide your child on what to revise. Your child will get a dedicated tutor to make them a tailored learning plan and identify the more challenging areas to work on together so that your kid aces the 11+ English exam.
What 11+ exam boards are there?
The most common 11+ exam boards used are the Centre for Evaluating and Monitoring (CEM) and GL Assessment. The CEM paper combines 11+ English and Verbal Reasoning into one section.
The GL 11+ English paper consists of a comprehension exercise about a given text and questions testing knowledge of vocabulary in the text. The GL paper also has sections covering spelling, grammar, and comprehension. We'll cover the specific 11+ English exam topics that can appear on both sets of papers later.
Some schools even set their own entrance exams so make sure you're aware of what your child needs to work towards. Focusing on the right exam prep will save your kid time and allow them to get a better mark by concentrating all their effort on the type of 11+ English exam they will face.
What is a good score for the 11 plus?
The 11+ English exam is one of the most difficult your child will face. That's because of the competition, so the exam is designed to be tough on purpose. The whole point of the 11+ English exam is for schools to decide who to accept. In some competitive areas, you can find that 1,000 kids are all vying for just 100 places. 🤔
Scores are often standardised and schools will publish the score requirements, usually taking age and difficulty into consideration. However, other schools will just accept the kids with the top marks and work down the list.
If your child is older for their year, standardisation would mean they need a slightly higher score than a younger child to get the same final mark. Who is given a place will ultimately be up to your chosen school. To make sure your child has the best chance possible of getting in it's essential to prepare.
We're going to look at common topics on the 11+ English exam, then how to prepare for the exam.
Free 11+ English exam Practice materials
We've created a bunch of super handy 11+ resources that you can download for free! Help your child get in enough practice ahead of time by downloading our 11+ vocabulary list, creative writing handbook and comprehension paper: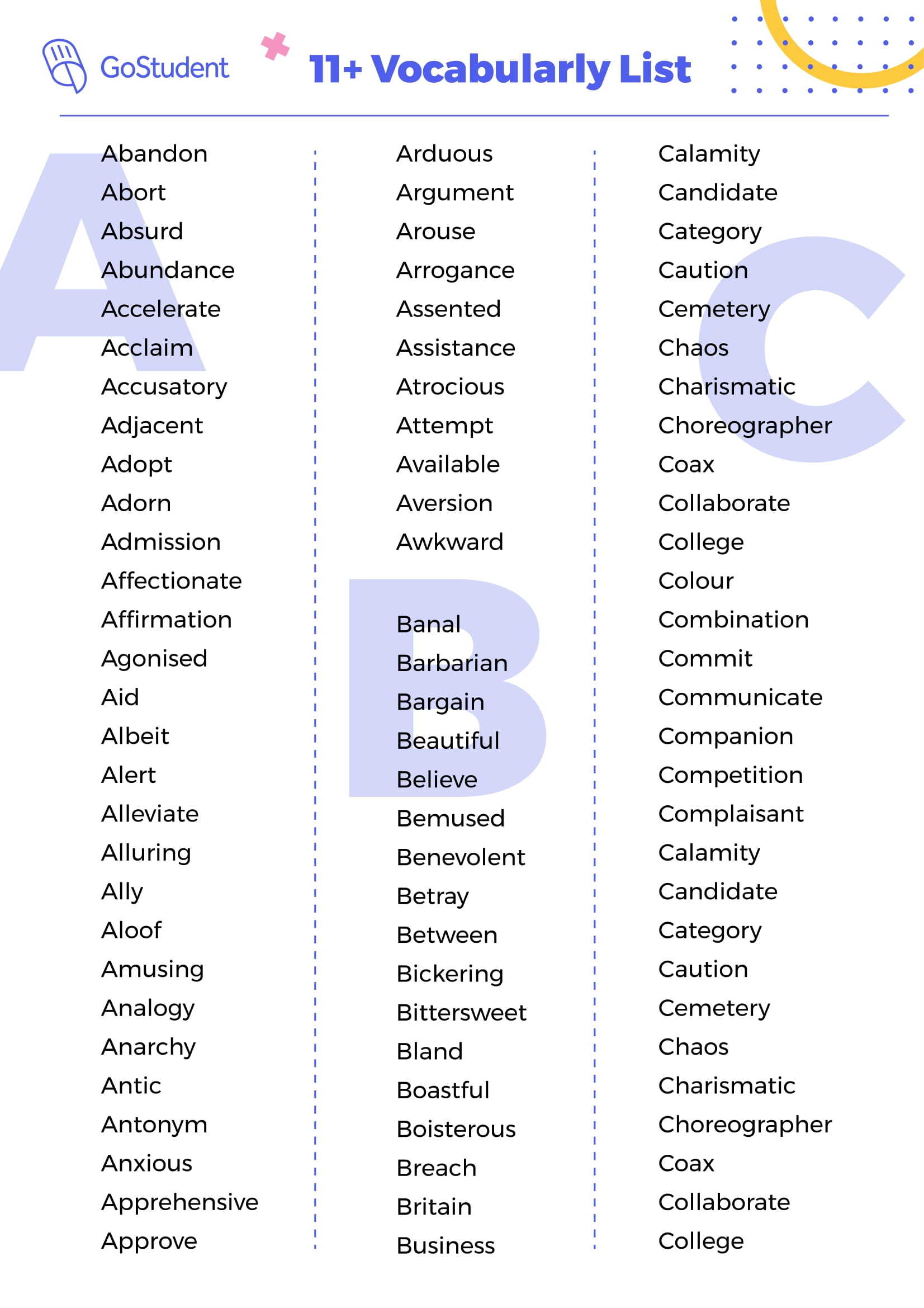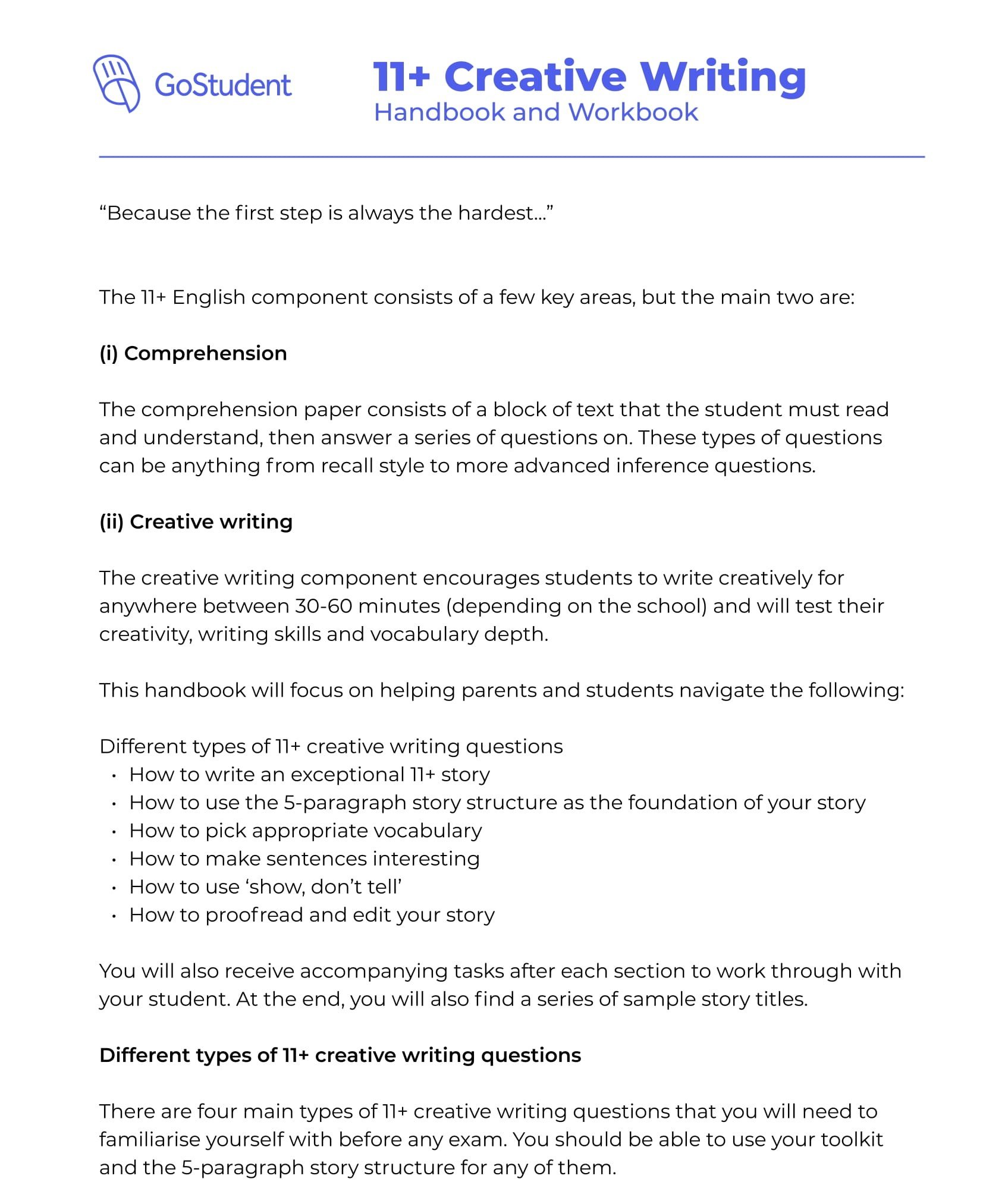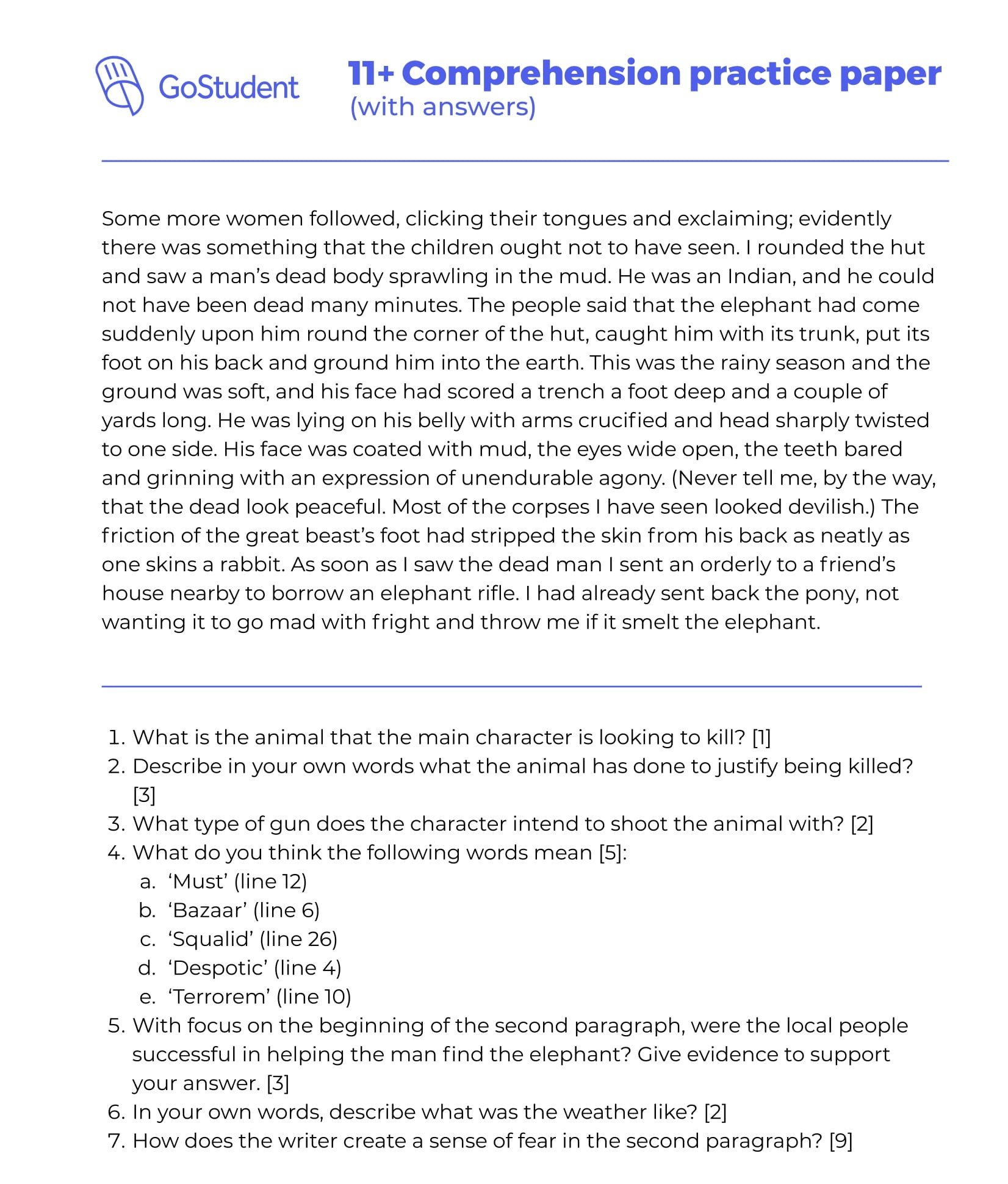 What topics are in the 11+ English exam?
Even though the 11+ English exam varies by region, your kid can expect a combination of comprehension exercises, writing tasks, grammar questions, and spelling problems. They are typically between 45-65 minutes long.
We're going to share some common English language skills that need to be revised for the 11+ English exam. These are examples to give you an idea of the level of complexity involved. If your kid needs to take the 11+ Verbal Reasoning exam, these examples will also be useful practice for that. Remember, verbal reasoning-style questions often appear on many of the 11+ English exams too.
Topics in the 11+ English exam can include:
The 11 plus synonym questions will ask for a word that means exactly the same or nearly the same as words at the following level: conceited, barren, absurd, decline, or rare.
The 11 plus antonyms questions will ask for a word that means the opposite of words at the following level: traitor, hasty, frivolous, affectionate, or coarse.
The 11 plus prefixes questions will test your kid's knowledge about prefixes such as:
Un-

Multi-

Anti-

11 plus figures of speech
Some of the 11 plus figures of speech that might be tested are similes and metaphors.
The 11 plus homophones questions test your kid's comprehension and spelling of words that sound the same but aren't spelt the same way and have different meanings e.g. hale vs hail.
The 11 plus adjectives included in the exam will be around the following level: harmonious, considerate, delightful, and arrogant.
The 11 plus compound words that are tested can be about open, closed, or hyphenated compound words.
The following types of exercises can be found on the 11+ Verbal Reasoning exam:
Very closely related to the 11+ English exam is the 11+ Verbal Reasoning exam or questions. This often includes 11 plus cloze exercises so your kid may need to practise these too. The 11 plus cloze exercises will test your kid's understanding of English and their ability to use different words in the right context.
The 11 plus shuffled sentence exercises (or 11 plus jumbled words exercises) also require a lot of English revision. These test whether kids can use the correct word order to put a sentence together.
Having excellent 11 plus spell check skills will also be essential for the 11+ English exam. Let's look at how your kid can spell check their own work and improve in all of the areas we mentioned above.
How can I improve my 11 plus English?
There are a number of ways that your kid can improve their 11 plus English skills. Most of these strategies are fun, especially if your child naturally loves reading and vocabulary. Don't worry, if it's not your kid's favourite subject, there are still some ways you can entice them to practise. 👍
Read books past 11+ English level
As we mentioned, the 11+ English exam is designed to be difficult in order to select students based on their academic performance for secondary school. While it's great to read the books your kid's school currently assigns them, they should also be reading slightly above their level.
This will stretch their vocabulary and also hone their understanding of more complex grammar rules. Some of the 11+ English exams don't rely on a classic novel but will have a new text written specifically for the exam.
Therefore, it's useful to read a wide range of material including news that's written for children and fact-based articles and journals, as well as novels.
Use games and quizzes
There are lots of great word games and crosswords available online or to download onto a device. These are great because they're more fun than rote learning a list of vocabulary and all exposure to new words and cementing challenging words into the long-term memory is beneficial.
Practise past 11+ English exams
This is a great way for your kid to get acquainted with the style of the past 11+ English exams their future school used. Since this will be more challenging than the English tests they're used to, start these as early on as possible and have your child do as many as you can from different years.
Brush up on writing skills
The 11+ English exam will have a written component. Even if your child is an avid reader or top of their class for spelling it doesn't necessarily mean they feel confident at writing and expressing their thoughts clearly. This is especially tricky when they're in an exam situation and under more pressure than usual.
Get an 11+ English tutor
An 11+ English tutor will be able to help guide your child on what to study for and find past 11+ English exams that relate to your chosen school and the relevant exam board. They will act as moral support and give your child the confidence they need going into the 11+ English exam. ✨
As well as providing recommendations for reading material they will assign written tasks and correct these and suggest improvements and writing techniques that will boost your kid's score. An 11+ English tutor will be able to make the topic more fun and relevant to your little one. They do this by going over the grammar and spelling rules using material that interests your kid.
Of course, your kid is still going to have to practise reading some texts that may not be their preferred genre but a good tutor knows how to make this more engaging. They can explore new authors and styles together so that your kid ends up appreciating a more varied range.
At GoStudent, our 11+ English tutors are dedicated to improving your kid's mark and ensuring they walk into the exam feeling confident. If you'd like to see how much of a difference it can make for your child, we offer a free trial lesson. If you want to continue after that, we will make a tailored learning plan and provide you with regular updates on your kid's progress.