Contents
Are you interested in sending your child to a grammar school in Essex? If so then you need to know about the 11+ CSSE exam.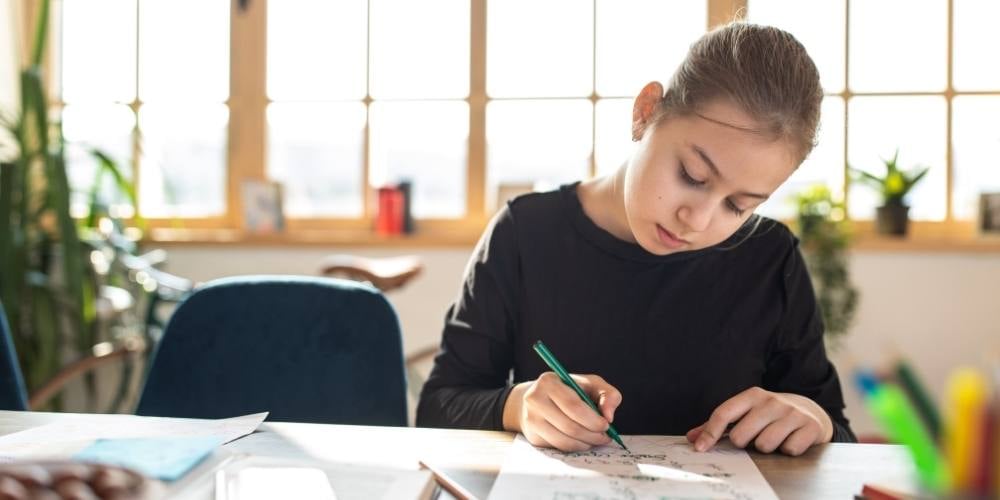 What is the CSSE 11+ exam- An overview and which schools use the test?
CSSE stands for the Consortium of Selective Schools in Essex, a group of leading grammar schools that got together in 1993 to organise a common 11 Plus entrance exam for potential pupils. Their thinking was that it made more sense for a group of schools to arrange a single 11 Plus Essex children could sit rather than have them take a different exam prepared by each individual school. 🏦
The 10 Essex schools that use the 11+ CSSE exam
These schools are very academically oriented and place a high intellectual demand on their pupils. The 11+ CSSE exam (or Eleven Plus CSSE exam) is designed to identify the kids who will get the most out of such an environment.
Your child must pass the test to be considered for a place at one of these academic institutions, but passing the test does not automatically guarantee your chosen school will offer them a place, just that it will consider their application.
Headteachers of CSSE schools are looking for pupils who are naturally curious and enjoy learning and solving problems. They expect them to be hardworking and determined in the face of difficult challenges. 11+ CSSE exam students should have already mastered the material they learned in primary school and be keen readers who read material above their age level. They should have good memory skills, vivid imaginations and an ability to learn quickly. 💪
When is the CSSE 11+ exam registration, exam dates and results?
Keep an eye on the CSSE website for an announcement about CSSE registration dates, but applications usually need to be submitted by early to mid-July.
You can get the Supplementary Information Form to register from the CSSE website or any CSSE member school. You also need to complete a Common Application Form to register your request for a place at a CSSE school via the Essex Council website before October.
If you intend your child to start at one of the CSSE schools in 2023, they must sit the 11+ CSSE exam on Saturday 17th September 2022.
The results will be sent out in October 2022 and the national offer day when schools will offer places should be in March 2022.
What is the CSSE 11 plus exam format and assessment syllabus?
The 11 plus CSSE exam involves two papers, one in mathematics and one in English.
The maths section takes an hour and the English part also lasts an hour but with an additional 10 minutes allowed for reading.
Questions in both the mathematics and English papers are designed to test knowledge and understanding of the material taught in Key Stage 2 (KS2) of the National Curriculum.
In its approach to testing maths and English skills through a wide array of tough questions, the CSSE exam is a fairly traditional 11+ test although with a little opportunity for creative writing thrown into the mix.
To prepare for the CSSE 11 plus exam maths paper, your kid must be able to show a good understanding of the following topics:
2d shapes
Algebra including BIDMAS/BODMAS and simple linear equations
Angles
Area and perimeter of shapes
Coordinates
Cube numbers
Decimals and fractions
Distance, speed, and time
Statistics and graphs including bar charts, line charts, mean, median, mode and range, pictograms, pie charts, and Venn diagrams
Mathematical word problems
Measurements: area, volume, length, mass, money, time, and unit conversions
Number lines
Operations: addition, subtraction, multiplication, division
Ordering and comparing
Percentages
Place values
Prime numbers
Ratio and proportion
Reading and writing numbers
Reflections and translations
Square numbers
Timetables
The CSSE 11 plus exam English paper includes both multiple-choice and questions where students write in their answers.
To do well in the English paper of the 11 Plus Essex children must show an excellent grasp of grammar, a wide vocabulary, a deep comprehension of texts, and advanced verbal reasoning skills.
Showing deep comprehension means your child can, among other things, look for relevant information in a text, make inferences, identify and interpret literary techniques such as irony or sarcasm, and summarise an extract.
A child with a wide vocabulary should also know about idioms, synonyms and opposites, have a conscious or unconscious understanding of the Latin or Greek roots of English words and be able to infer the meanings of unfamiliar words confidently.
Your child should be able to correctly use and identify the following grammatical structures:
Active/passive voice
Adjectives
Compound words
Conjunctions
Determiners
Main and Subordinate Clauses
Nouns
Plurals
Prefixes
Prepositions
Pronouns
Suffixes
Tenses
Verbs
Punctuation is also important for the CSSE 11+. To get good marks, children should be confident and accurate in using:
Apostrophes
Brackets / Parentheses
Commas
Full Stops
Hyphens
Quotation / Speech marks
Semi-Colons
The English paper tests verbal reasoning skills as well. This section is basically a series of word puzzles like mixed up sentences or stories, sentence gap-fill questions (cloze tests) and exercises to test knowledge of synonyms and antonyms.
A creative writing question gives kids a topic which they must explain in six or seven detailed sentences. This is an opportunity for your child to demonstrate their imagination and descriptive writing abilities. 📝
How can my child prepare for the 11+CSSE assessment?
To give your child the best chance in their CSSE 11 Plus assessment, preparation should begin early including practice papers designed to replicate the format of the CSSE exam.
Whether you are looking for CSSE 11+ papers Maths sample questions or
CSSE 11+ papers English sample questions, you can check out the CSSE website and download practice resources.
Tips to solve the 11+ CSSE Assessment Papers
Keep in mind that your child has to be familiar with techniques to get through the exam in the most efficient way possible in addition to having the knowledge necessary to answer the questions.
Your child should get used to understanding their pace through the exam paper that includes not wasting time on questions that they cannot answer and also not rushing through questions, which can lead to careless mistakes.
If a question has your child absolutely stumped, then it's not a reason to panic, they need to move on to the next question and if there is time then come back to it at the end.
Your child should be used to showing their method in maths tests which can give them marks even if the final answer is incorrect.
How well do you know the 11+ CSSE Exam?
Here are some key bullet points to remember about the 11+CSSE Exam:
Used by the CSSE (a group of schools in Essex).

The exam has two papers - English and Maths.

Passing the 11+ CSSE does not guarantee a place at one of the CSSE schools.

The exam is in mid-September.

There is no specific pass mark, though for most schools the minimum mark to be considered for a place is 303, or around 80-85%.

In 2022 4874 pupils took the CSSE. 54% scored above 300.

Out of 163 Grammar Schools in the UK, just 6% use the CSSE 11+.
What is the pass mark for CSSE 11+?
There is no one set pass mark for the CSSE 11+. The maths and English papers are each worth 50% of the total. But that's where things start getting complicated.
The scores are also 'weighted', this means kids are given different allowances depending on their ages. Results are also 'weighted' according to how high the scores are for every child who does the test in a certain year. This means that if the overall marks are high when your child does the CSSE exam, everyone's score is likely to be reduced by the 'weighting'.
What's more, as some schools may be more popular than others and the number of kids applying to a particular school may change from year to year, there is no standard pass mark that applies to all schools every year. Schools with more applications may raise the pass mark they want to accept and schools with fewer applications may lower it.
However, CSSE has provided a rough guide to what some of the schools have accepted in the past:
55 - 60% for the Southend grammar schools' priority area and other Southend schools
65% for out of area places at most of the Southend grammar schools
65 - 70% for Colchester County High School
70% for Colchester Royal Grammar School and King Edward VI Grammar School priority area
75% for King Edward VI Grammar School out of priority area
Are mock exams for CSSE worth the price?
As the CSSE exam is based on KS2 material, the exam designers do not believe children should do a lot of practice tests to prepare for the 11+. They recommend that a few hours of practise should be enough for them to get a good idea of how to do the exam.
The CSSE also sells extra practice material to help prepare for the exam. The current price for two papers is £15.90 and there are 4 sets of papers available. At this price it's not a bad idea to purchase a few sets of papers to give your child confidence with the question format and also to practise their time management skills under simulated exam conditions. The CSSE will sell 2022 entry examination papers as practice material from May 2022.
More generic 11+ style practice tests are available online and via bookshops but you should be aware that they will not match the exact format of the CSSE 11+.
In general, the best way for your child to prepare is for them to read widely and actively and to make sure they have a good grasp of the material and concepts they were taught in English and maths throughout Key Stage 2.
Our GoStudent tutors are ready and waiting to give your child mentoring and support to prepare for the 11+ CSSE exam, to help with KS2 topics or for any other educational needs they may have. Click here to try a free trial class today!