Contents
We know how tough it can sometimes be to engage students in online Zoom sessions. Students joining remotely means they might be distracted by their dog, toys, or the internet. Yet, with the convenience of Zoom meetings likely to outlive the pandemic, it's a good idea to think of ways to engage your students.
The one thing that most tutors struggle with is coming up with Zoom icebreakers. It's crucial to establish trust and develop a good relationship with your students right from the beginning. Zoom icebreaker games are an excellent way to get to know your students better. 👨‍🎓

If you don't start a Zoom meeting off on the right foot, you risk losing your student's attention for the entire session! We've compiled a list of fun Zoom icebreakers to help you win over your students and engage them better in Zoom meetings.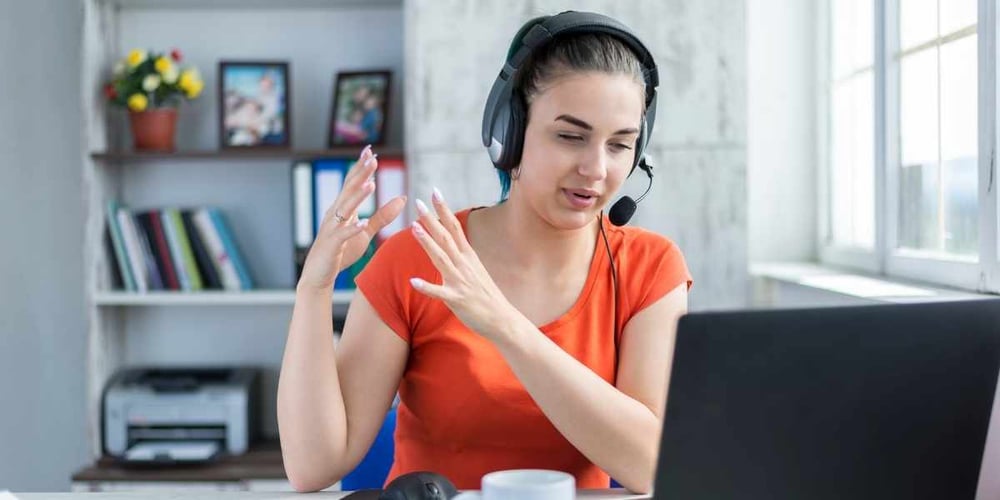 What is a good Zoom icebreaker?
The first question to ask yourself is, what do you want the Zoom icebreaker to do?

Zoom meetings are often subject to long periods of silence and many unexpected interruptions. A good Zoom icebreaker can help you hold your student's attention in a commanding yet fun way.
The Zoom icebreaker games should depend on which class you're using them for. 🧩 For example, initial introductory classes should start with fun team-building exercises that familiarise you and the student. On the other hand, routine classes could start with a light exercise or anecdote that sets the mood for the rest of the session.
What are some good team-building Zoom icebreakers?
Here's a list of collaborative Zoom icebreaker games and activities that can help you start your Zoom classes on the right foot:
1. Complete the story
Complete the story is an
interactive ice-breaking activity
that helps you learn more about your students in a
creative
way. Usually, students are divided into small teams of three or four, and each of these teams should come up with a story, however, this can even be played with only two people. It allows you to get to know the student even better!
The catch? Each person is supposed to develop exactly one sentence that the other person will then try to incorporate into the story. Complete the story is an excellent exercise because it allows you to give your student a lead and then see where they take the story.
2. Virtual escape rooms
Escape rooms are a tried and tested
activity
that requires participants to use their collaborative and
logical thinking skills
to solve fun puzzles. The virtual version of this activity requires you to give students clues/riddles that they need to solve to complete the challenge.
3. JAM
JAM or Just A Minute is a freewheeling Zoom icebreaker game that allows you to get a closer look into the thought process of your student. Your student should speak for 60 seconds on a topic of their choice. The activity can be made more fun and collaborative by you selecting a topic and them improvising
Good ice-breakers for Zoom hosts
Hosting a Zoom meeting can be daunting. Here are a few ice-breaker ideas to help you grab your student's attention and make sure they're engaged throughout the session:
4. A fun virtual background
Visual icebreakers are often overlooked when it comes to Zoom meetings. Setting a fun virtual background can help you create a warm, encouraging atmosphere.
To set a custom Zoom background, click on the arrow next to the 'video settings' button - navigate to the 'virtual background' section - click on the '+' button and choose an image file from your computer.
Setting an image that the student can easily relate to can be a great way to get the session off to a positive start. For example, if the student is a soccer fan you can set a background with Ronaldo or Messi's picture. Another great example is if you know the student recently visited a particular city or is keen to go there, you can set a monument from that city as your background.
5. Fun questions
You can ask your students fun questions that can get them to open up. It could be questions about current news, their favorite movie, or maybe even something like
"which would you rather have
pancakes or waffles
?"
Having your students answer fun yet simple questions like these makes them feel included and can be a great way to establish familiarity.
6. Find the object
Find the object is an impromptu scavenger hunt
game
that can help you engage your student. In this game, you pick a list of common household objects (like a cup, stapler, or photo frame) and ask your student to find these in their home and bring them in front of the camera as quickly as possible. You can time how long they took and encourage them to beat their previous timing. It is a light, fun way to regain the attention of a lost/bored student on Zoom.
With the correct Zoom icebreaker games, you'll be able to maintain the attention of your student throughout the session and motivate them to get involved. Regardless of which subject you teach or your teaching style, Zoom icebreakers are light, fun activities that will grab your student's attention from the get-go. 📝

Once you've kicked things off with one of these fun icebreakers, remember to keep your students engaged and interested throughout the session through the use of interactive activities and in-chat questions.

If you think you'd fit into GoStudent's tutor community, we'd love to invite you to register now! It's an exciting and flexible opportunity to make money.