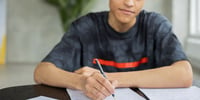 March 18, 2022

In

EXAMS
5 min read
There are many learning methods out there, and the Feynman Technique is a very popular one. Check out our guide to this great learning technique.
March 18, 2022

In

EXAMS
8 min read
Failing an exam might feel like the end of the world for your child but are there any positives to gain? Find out here how to cope with exam failure.
March 11, 2022

In

EXAMS
4 min read
Stressed about exams? Flashcards are a great way to prepare. Here's everything you need to know about them.