Dyslexia is one of the most misunderstood learning difficulties. Read our guide about why you should be celebrating your dyslexia as the gift of genius.
March 22, 2022
11 min read
TikTok is the fastest growing brand and everyone's into it. Which teachers use it? Should teachers use it? Who should I follow? Read on to find out more…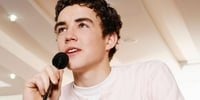 March 21, 2022
8 min read
No matter what job your child ends up in, public speaking will be one of the greatest skills you can teach them. Find out more here.